Welcome to the New Zealand Wool Classers Association
Fostering and supporting quality education, harvesting and presentation standards in the wool industry. A home for all involved in wool growing, handling, grading and classing.
Our role in the wool harvesting industry is to promote a high standard of wool classing & wool preparation. To achieve this outcome we maintain a register of qualified classers, hold field days, communicate through newsletters, email, Facebook and this website. NZWCA also maintains a strong role in promoting education for the wool industry.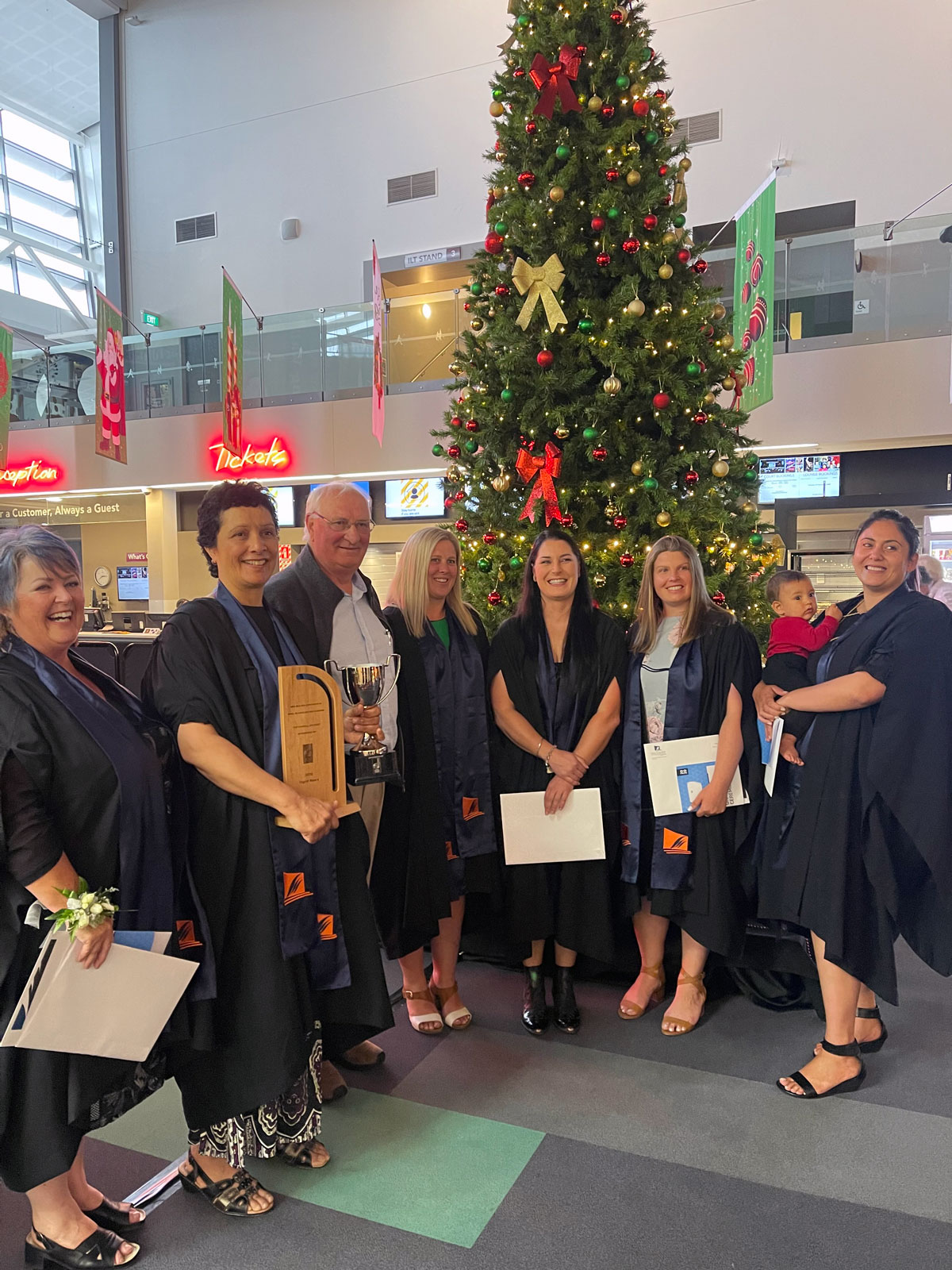 CWT graduates at SIT graduation 2020 with Wool Classers Executive Officer Bruce Abbott. From left to right: Claire Mulholland, Ingrid Neera, Bruce Abbott, Cassie Johnston, Mecaela Lynch, Christie Burn and Te Kau Ma Tahi Natilie Moore.
Education for the Wool Industry
WOOL TECHNOLOGY & CLASSING COURSE
Pictured are the students who attended the 2020 Southern Institute of Technology (SIT) Graduation for the Certificate in Wool Technology. 20 students passed the course in 2020 and there have been 40 registrations for the 2021/22 Wool Technology & Classing Course. Due to the demand SIT have scheduled a further Wool Technology course to start in July 2021. Laurie Boniface and Richard Gavigan are the tutors for this course. For more information about the course:
WOOL CLIP GRADING COURSE
Become an accredited wool grader in the wool harvesting industry and be able to grade wool from across the table & board.
This course provides the New Zealand wool industry with people who have the skills and knowledge to grade wool, co-ordinate the quality of team output and complete documentation in a wool harvesting operation.
In co-operation with local shearing contractors these courses will be run throughout New Zealand during 2021. Tutors for this course are Richard Gavigan (North Island) and Bruce Abbott (South Island)
Graduates qualify to apply for NZ Wool Classers Association "Q" Grading Registration which can be applied on all clips you prepare.
WOOL HARVESTING TRAINING FOR WOOL HANDLERS, SHEARERS & PRESSERS
There are two training organisations delivering wool harvesting training:
Kaiaka Wool Industry Training NZ (a subsidiary of NZ Shearing Contractors Association) have commissioned WOMO LIFE to deliver training. For more information and contact details: https://alifeinwool.nz/
Elite Shearing. For more information and contact details: https://www.elitewoolindustrytraining.com/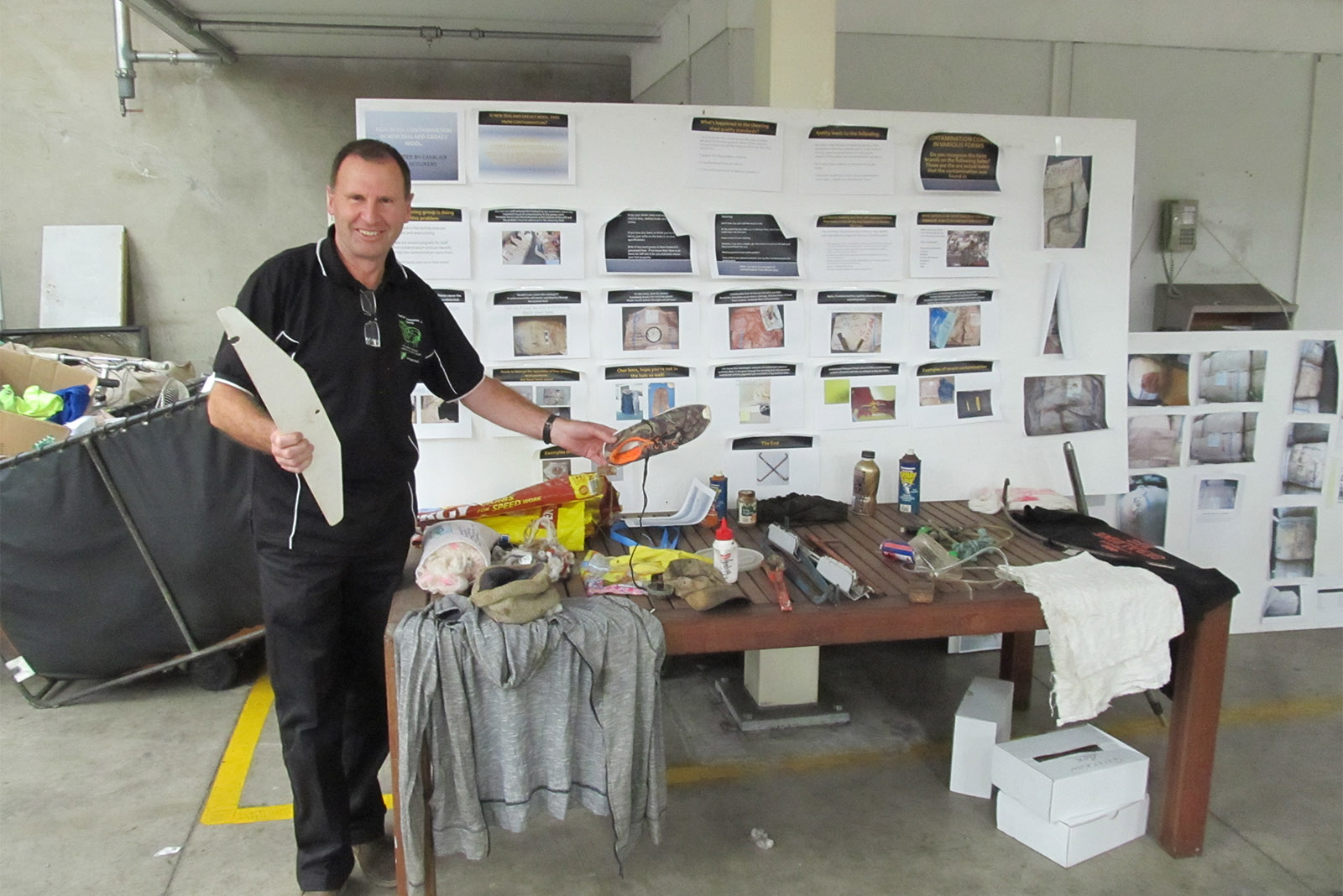 Examples of foreign articles found in wool bales, on display at the Christchurch Field Days.
This photo shows us the major problem that the industry has with foreign articles turning up in bales of wool at our local wool scours. No doubt wool shipped greasy will contain the same foreign articles.
In the past this unnecessary problem has caused a number of issues that include damage to wool scour machinery and contamination of wool products going through the manufacturing process. When these contaminates such as clothing, towels or plastic go through to the manufacturing stage it can create financial claims back to the Buyer/Scour.
This is a problem we all can fix by being observant in our workplace and recognising contamination problems before they arise.
STOP PRESS: BRANDS
All brands are to be removed from wool and kept separate. Last season some branding products were not scourable and created large financial claims and in some cases, wool could not be sold.